Heute, am 29.08., demonstrierten Coronaleugner zusammen mit bekennenden Rechtsextremen in Berlin. Sie fordern ein Ende der Infektionschutzmaßnahmen und eine 'Abdankung der Regierung Merkel', berufen sich auf krude antisemitische Verschwörungserzählung wie die von QAnon. Schon vor der Demo begegneten man auf der Straße Gruppen von jungen muskulösen Männern mit einschlägig rechtsradikalen Tätowierungen und T-Shirts. Ihr triumphierendes Auftreten verbreitet Angst – den (laut 'Verfassungsschutz' ja 'nicht rechtsextrem unterwanderten') Coronaleugnern bereitet die gewaltbereite Stimmung offenbar kein Unbehagen, stattdessen berauschen sie sich an Machtillusion.
Um hiergegen ein Zeichen zu setzen ruft ein breites Bündnis zur 'Solidarität! Statt Schulterschluss mit Nazis! – Protestkundgebung' am Bebelplatz auf.
Today, 29 August, Corona deniers demonstrated together with avowed right-wing extremists in Berlin. They demand an end to infection control measures and a 'resignation of the Merkel government', citing crude anti-Semitic conspiracy stories such as the QAnon. Even before the demonstration, groups of young muscular men with relevant right-wing extremist tattoos and T-shirts were seen on the streets. Their triumphant appearance spreads fear – the corona deniers (who according to the 'Verfassungsschutz' are not 'infiltrated by right-wing extremists') are apparently not uncomfortable about the obviously violent atmosphere, instead they are intoxicated by the illusion of power.
To set an example against this, a broad alliance calls for 'Solidarity! Instead of closing ranks with Nazis! – protest rally' at Bebelplatz.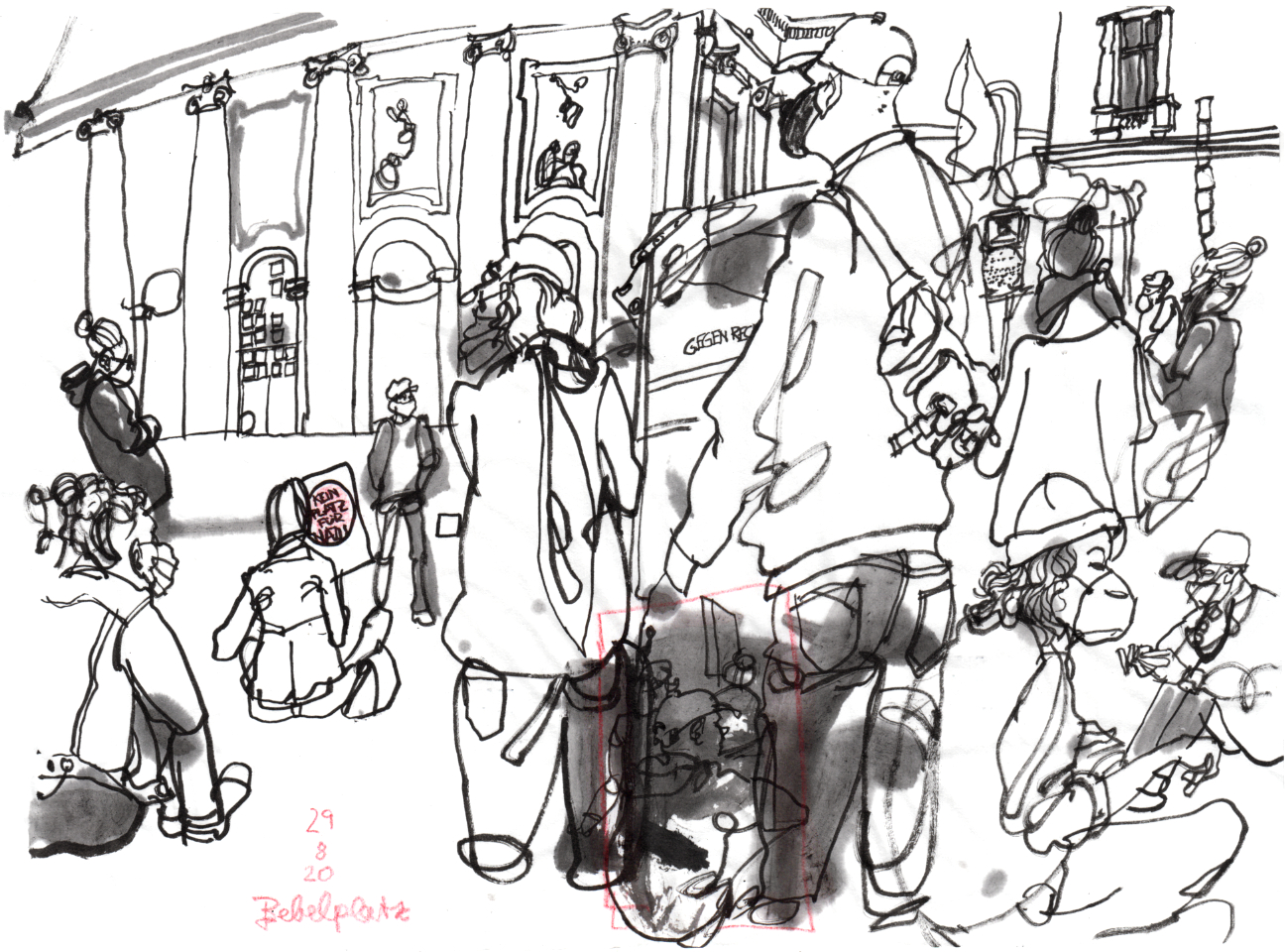 Ich komme gegen 09:20, Musik und erste Reden aus dem Bühnenwagen vor der Hedwigs-Kathedrale, hier trägt jede*r wie verlangt Masken, wir sitzen oder stehen locker verteilt auf dem Platz.
I arrive around 09:20, music and first speeches from the stage wagon in front of Hedwigs Cathedral, everyone wears masks as requested, we sit or stand loosely distributed on the square.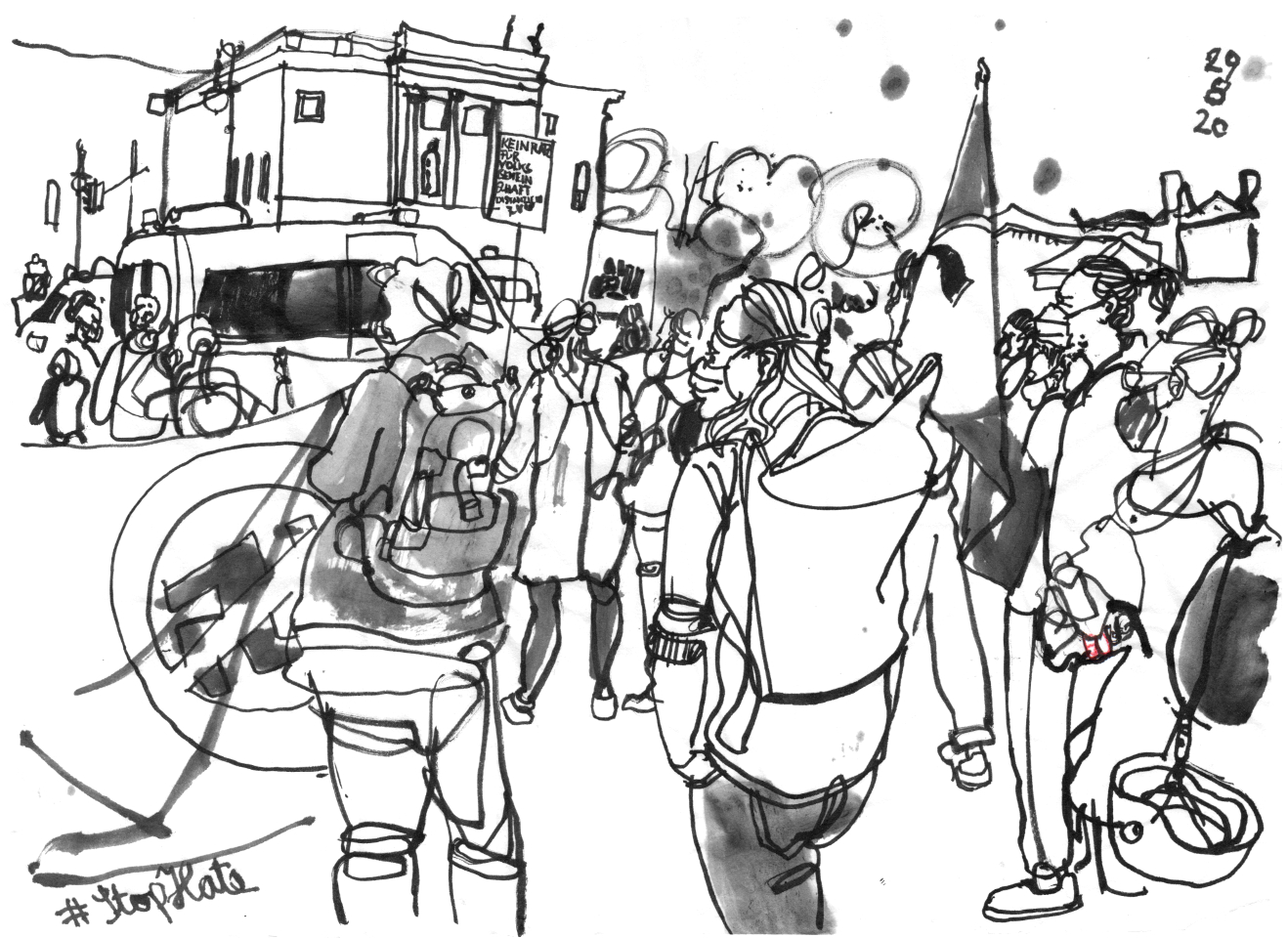 Auf der gegenüberliegenden Seite des Platzes zu 'Unter den Linden,  der Marschroute der Coronaleugner, verdecken drei Mannschaftswagen der Polizei teilweise die Sicht, Redner*innen der Kundgeben fordern die Polizei auf, diese zugunsten unserer Sichtbarkeit weg zu setzen.
On the opposite side of the square to 'Unter den Linden', the march route of the Corona deniers, three police cars partially obscure the view, and speakers of the rallies call on the police to move them away for our visibility.
Dem Vorbeizug der Coronaleugner und Rechtsradikalen wird lautstark begegnet (mein Favorit: Kuhhorn mit Schlauchschleife dran, gekonnt und laut geblasen). Redner kritisiert zunehmend radikal Polizeipräsenz und -agieren auf unserer Kundgebung, schliesslich aber auch die Nachricht, das die Polizei beginne, den Demonstrationszug gegen Infektionsschutz aufzulösen. Es gibt eine weitere Kundgebung gegen rechts am Bahnhof Friedrichstraße, der Platz leert sich, etwa 20 Polizist*innen in Krawallausrüstung gehen an mir vorbei über den Platz Richtung unter den Linden.
The passing of the corona deniers and right-wing radicals is loudly countered (my favourite: cow horn with a loop on it, skilfully and loudly blown). Speaker criticises increasingly radical police presence and action at our rally, but finally there is even the news that, the police are beginning to break up the demonstration against infection control. There is another rally against the right at Friedrichstraße station, the square empties, about 20 police*women in riot gear pass me by and walk towards Unter den Linden.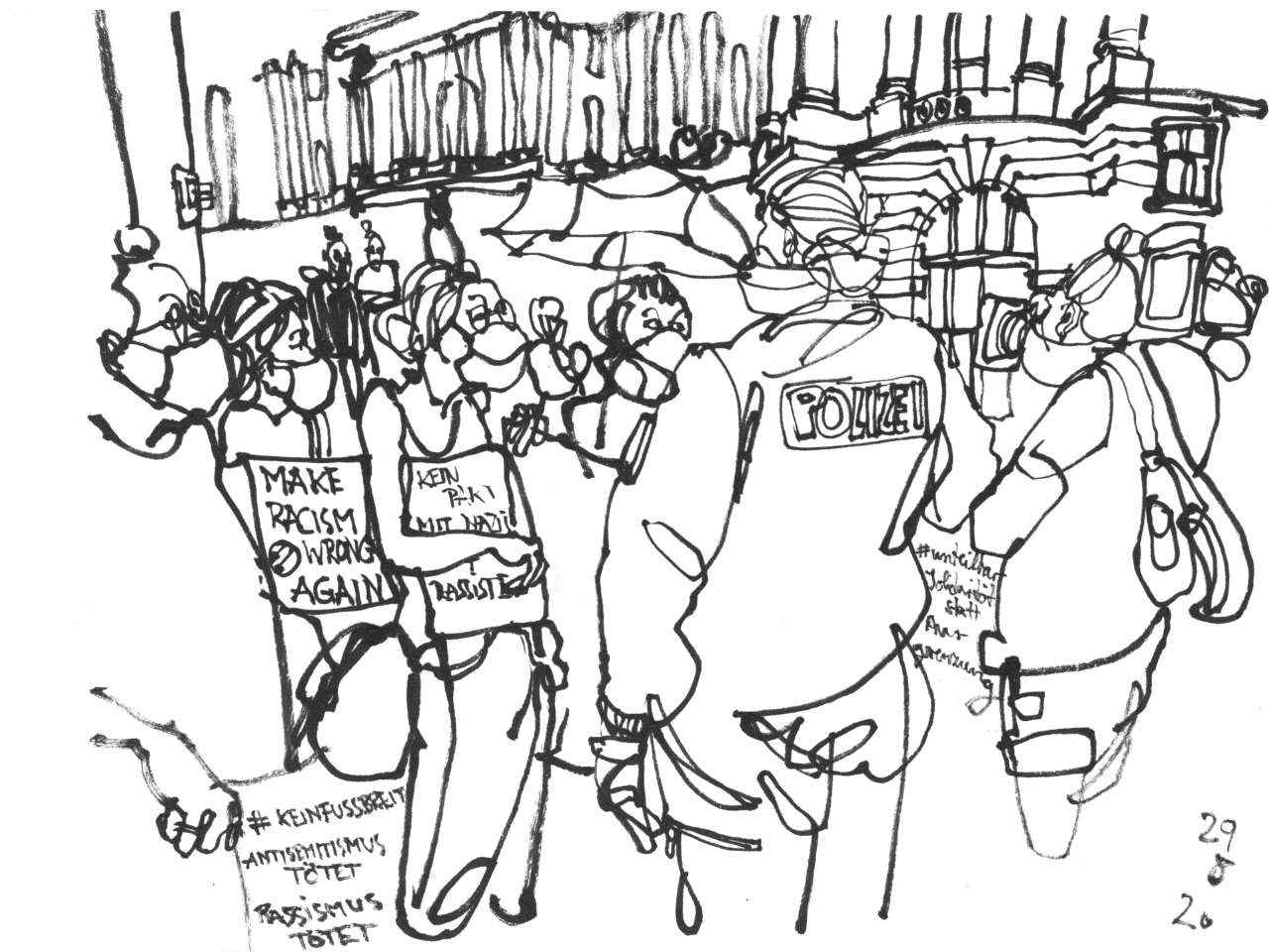 Gegen 13:30 sind weniger Leute auf dem Bebelplatz, viele sind wohl zu anderen Kundgebungen gegangen. Am Rand des Platzes zu Unter den Linden werden Sprecherinnen des #unteilbar Büdnisses vor der Kamera interviewt. Plakate und Banner werden weiterhin gut sichtbar zwischen den Polizeiautos zur Strasse hin präsentiert, wo kein coronaleugnender Zug mehr ist, der ist aufgelöst. Versprengte Vorbeiziehende können evtl. lesen.
Around 13:30 there are less people on the Bebelplatz, many probably went to other rallies. At the edge of the square at Unter den Linden, speakers of the #unteilbar Büdniss are interviewed in front of a camera. Posters and banners are still visibly presented between the police cars towards the street, where there is no longer a corona-denying march, it has been broken up. Scattered passers-by may be able to read.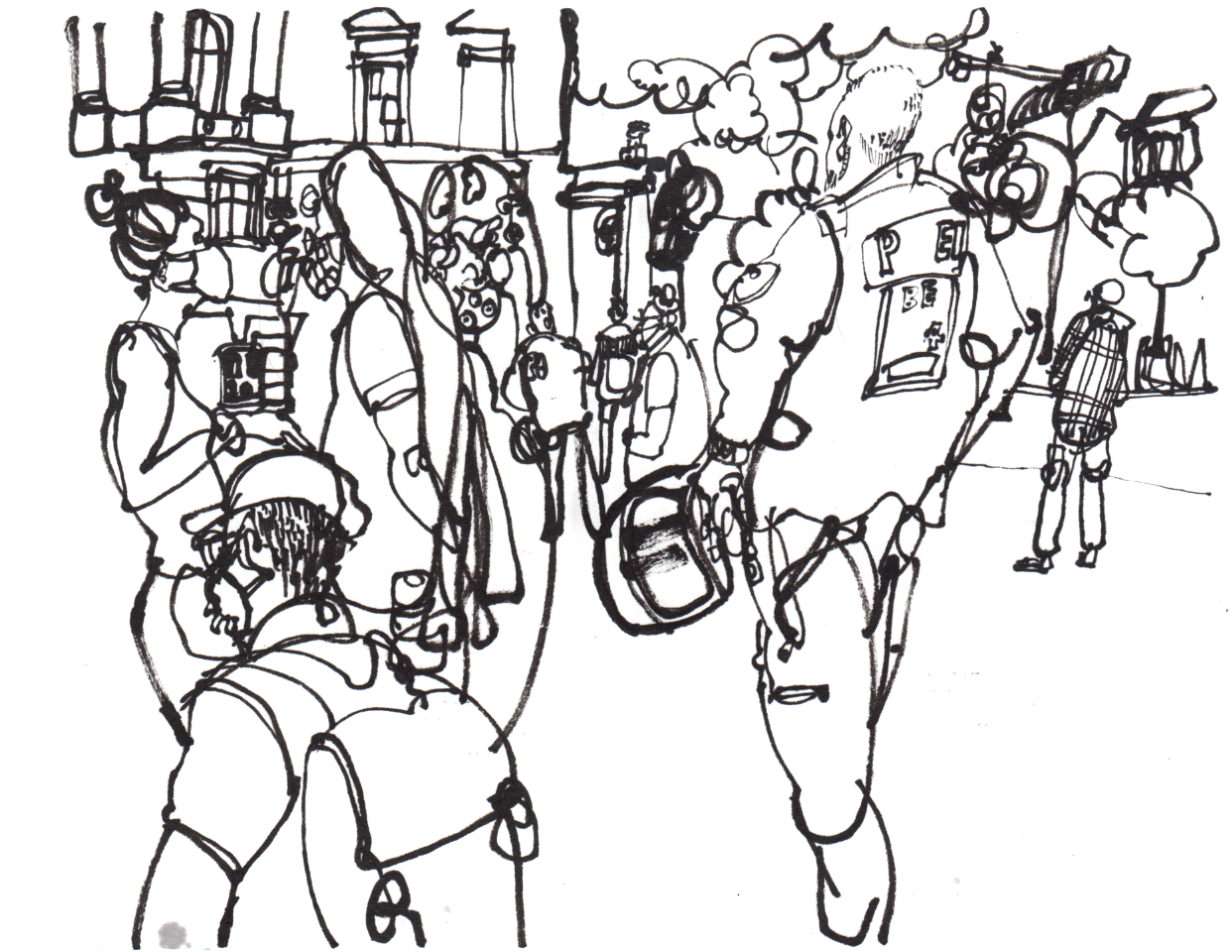 Die Kundgebung gegen Rechts auf dem Bebelplatz geht weiter mit Reden und Musik. Polizeisirenen und Hubschrauberschrabbeln vom Weitem, einmal zieht eine Gruppe in schwarzen Kapuzen vorbei, versprengte Menschen mit Deutschlandfahnen, einer regt sich mit Finger und Gebrüll auf, auf dem Platz gibt es Musik und entspannte Stimmung.
The rally against the right on Bebelplatz continues with speeches and music. Police sirens and helicopters scramble from afar, once a group in black hoods passes by, scattered people with German flags, one of them gets excited with finger and shouting, on the square there is music and relaxed atmosphere.
Ich gehe zurück zu meinem Fahrrad – vom Weiten sehe ich eine (unschöne) Fahnen schwingende Menge vor dem Bahnhof Friedrichstraße, viel Polizei und viel Agression. Ich fahre – um die rechtsoffene Kundgebung im Tiergarten zu umgehen, Richtung Wedding und sehe immer wieder von großer Polizeipräsenz abgesperrte Straßen. Ich habe genug für heute.
I go back to my bike – from the distance I see an crowd waving (ugly) flags in front of the Friedrichstraße station, a lot of police and a lot of aggression. I ride – to avoid the right wing rally in the Tiergarten, towards Wedding and see again and again streets blocked off by a large police presence. I have had enough for today.
Vielen Dank den Veranstaltern des solidarischen Gegenprotestes, ihr macht das weniger unerträglich.
Many thanks to the organizers of the solidary counterprotest, you make this less unbearable.