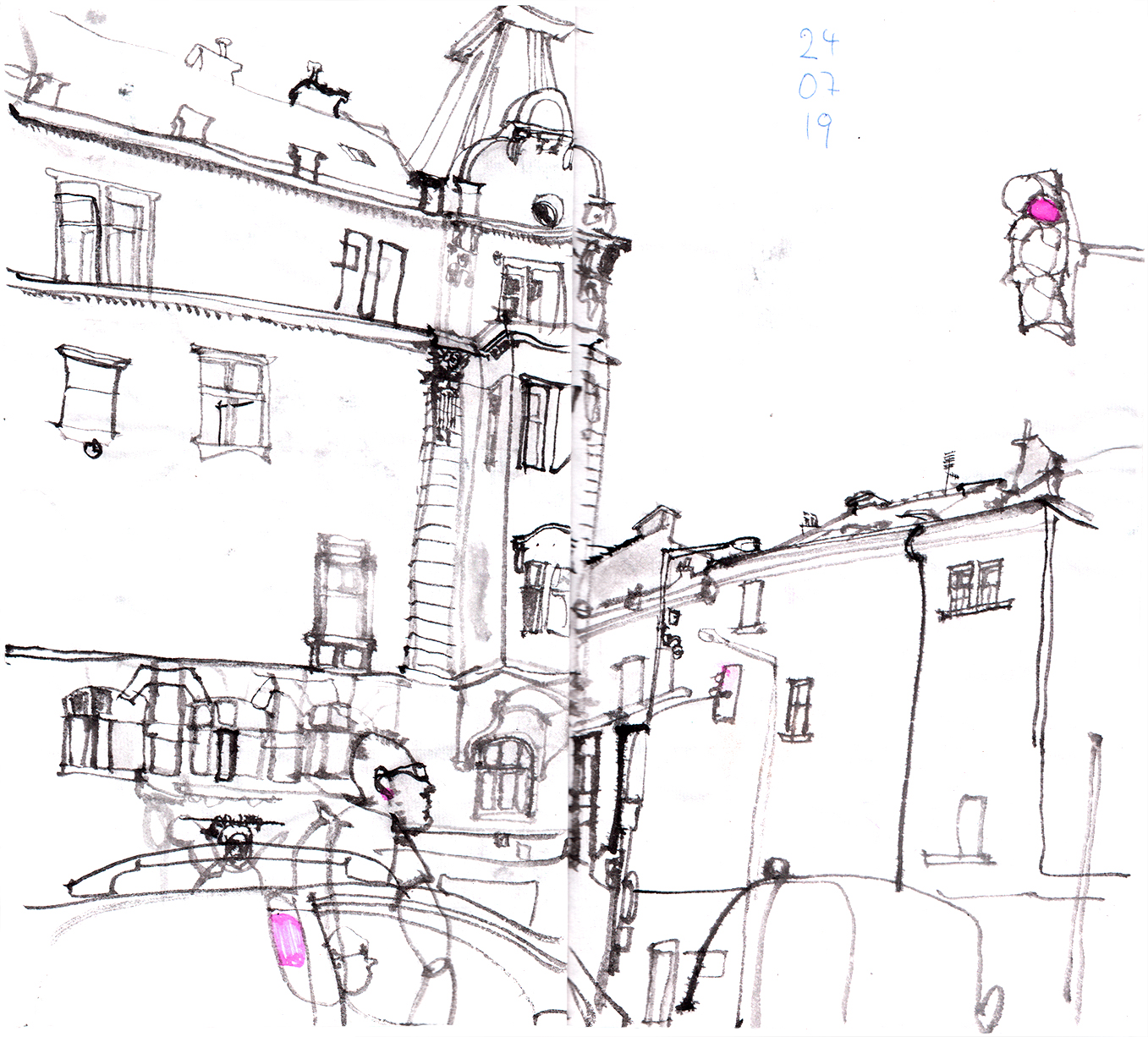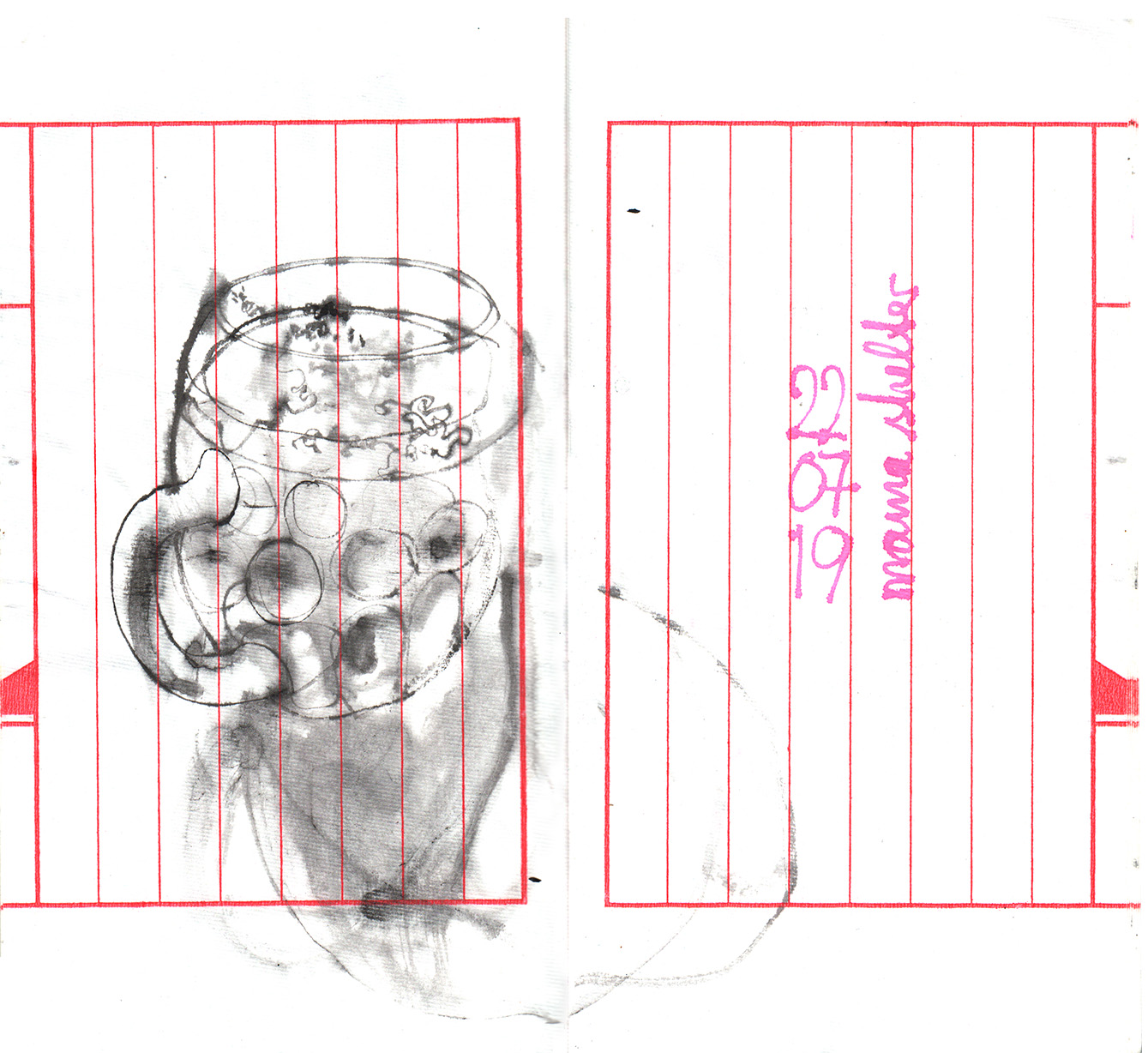 Unser Hotel liegt an einer Kreuzung an der Veletržní im Bezirk Prag 7. Auf der Terrasse gibt es Essen und Bier. Nebenan ist der Veletržní Palác, das größte Austellungsgebäude der Tschechischen Nationalgalerie. Sowohl die Architektur (1925-28, Architekten Josef Fuchs und Oldřich Tyl ) als auch die aktuellen Ausstellungen, die wir und angesehen haben (Giacometti und 'ASA 400: Photographs') sind ganz wundervoll. Das Gebäude ist riesig und zwischendurch kann man im Erdgeschoss Kaffee trinken:
Our hotel is situated at a crossroads at the Veletržní  in the Prague 7 district. Food and beer are served on the terrace. Next door is the Veletržní Palác, the largest exhibition building of the Czech National Gallery. Both the architecture (1925-28, architects Josef Fuchs and Oldřich Tyl ) and the current exhibitions we have seen (Giacometti and 'ASA 400: Photographs') are wonderful. The building is huge and in between you can drink coffee on the ground floor: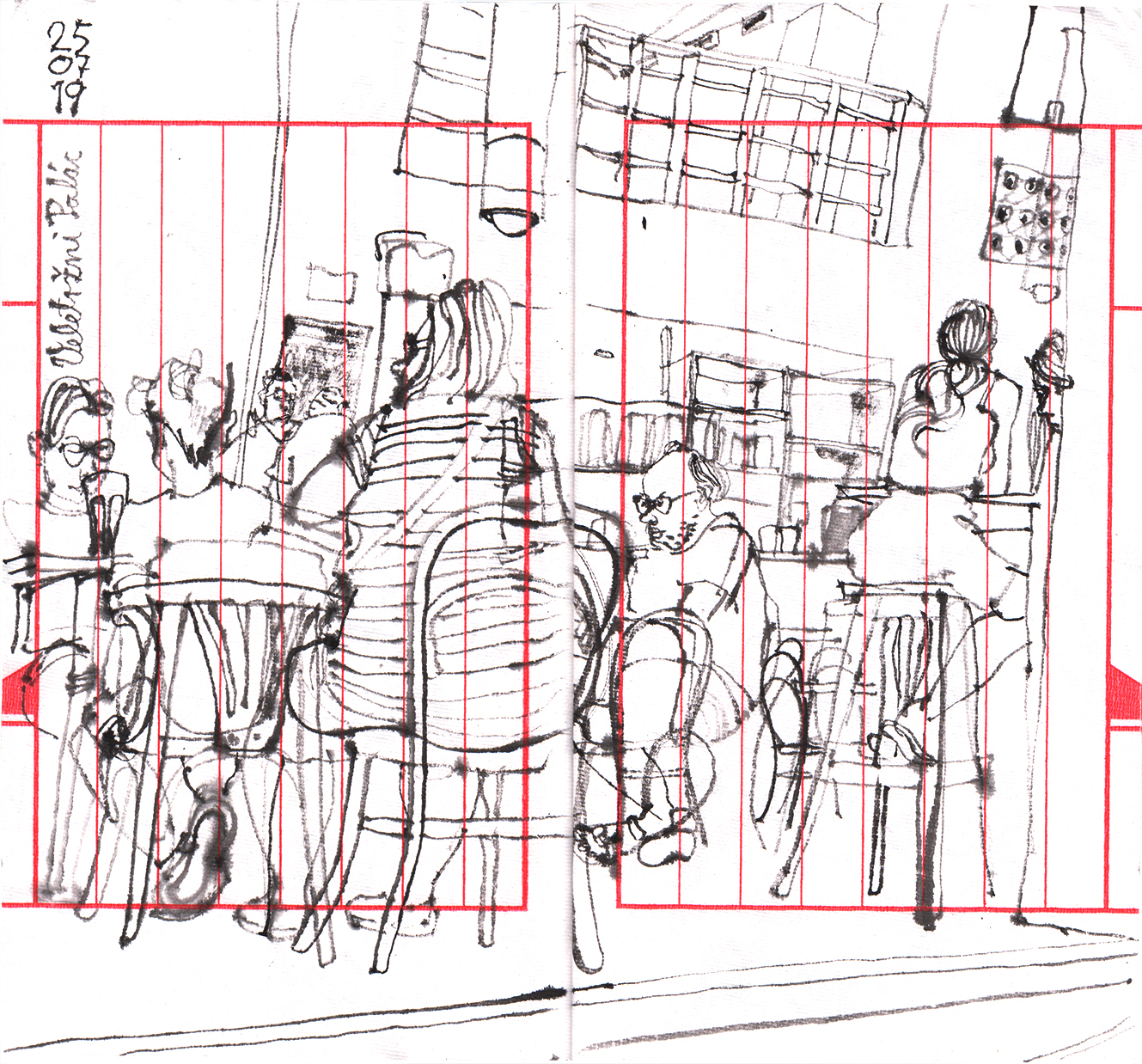 In dem Bezirk 'Prag 7' gibt es 2 große Parks, den 'Stromovka' bei der Messe, mit vielen Bäumen und Teichen, viel Platz zum laufen und spazieren, Planetarium und etwas Strandbarartigen, in die anderer Richtung auf dem Hügel den 'Letná' mit Blick auf die Moldau und Alstadt, besonders gut vom 'Metronom', (eigentlich 'Time Machine), 1991 von  Vratislav Karel Novák an der Stelle des 1962 zerstörten Stalin-Denkmals errichtet:
In the district 'Prague 7' there are 2 large parks, the 'Stromovka' at the fair, with many trees and ponds, lots of space to run and walk, planetarium and a 'beach bar', in the other direction on the hill the 'Letná' with view to the Vltava and Old Town, especially well from the 'Metronom', (actually 'Time Machine'), built in 1991 by Vratislav Karel Novák at the place of the Stalin monument destroyed in 1962: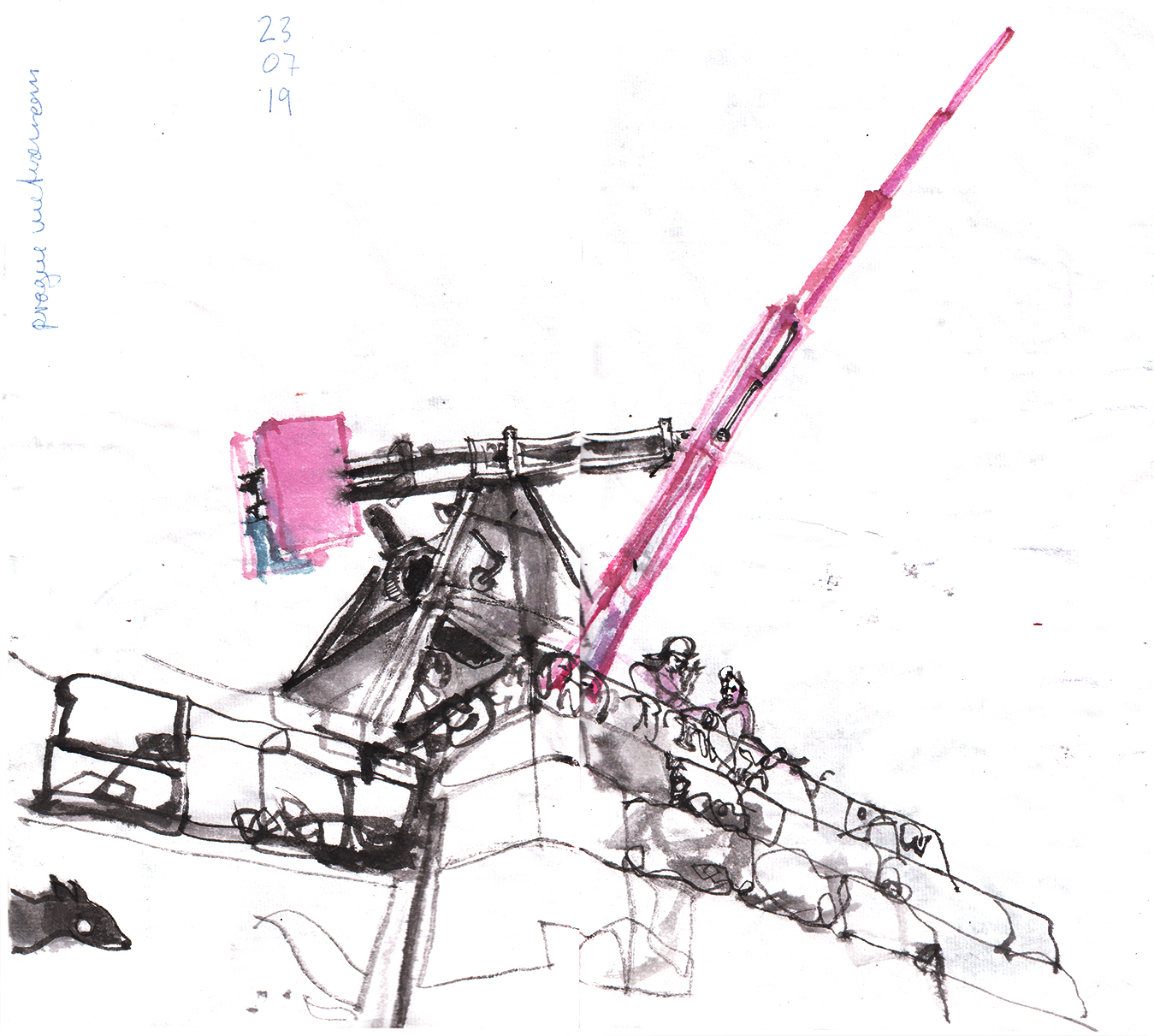 Wir besuchen das jüdische Museum in der Altstadt mit dem Shoah-Gedenkstätte in der Pinkas-Synagoge und dem Alten Jüdischen Friedhof.
We visit the Jewish Museum in the Old Town with the Shoah Memorial in the Pinkas Synagogue and the Old Jewish Cemetery.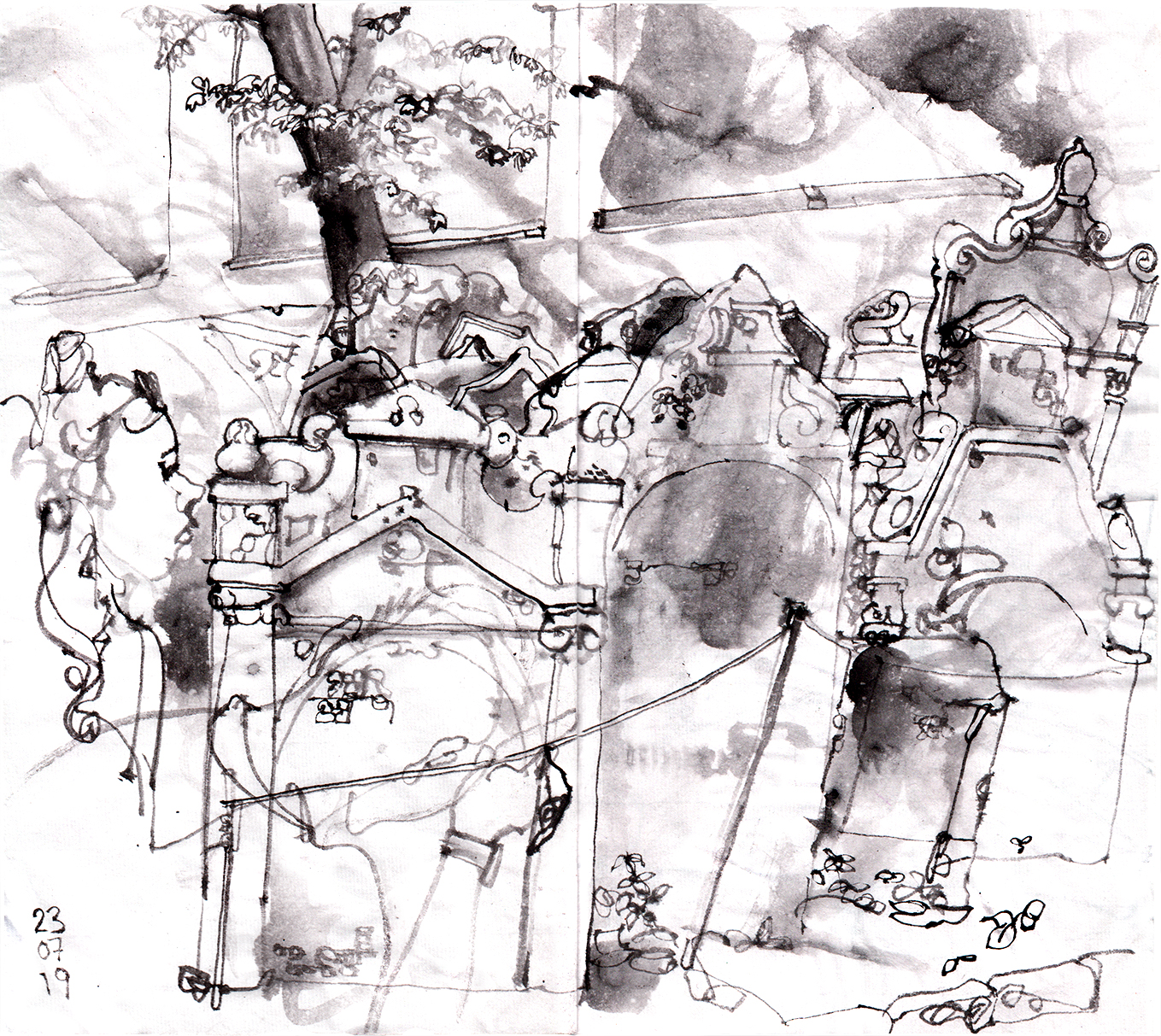 Mit diversen Straßenbahnfahrten (und einer Fährfahrt über die Moldau) gelangen wir zur 'Meet Factory' – dort gibt es in alter Industriearchitektur zwischen Gleisen und Autobahn mehrere Kunstaustellungen, Konzerte und an diesem Abend Open Air Kino. Bis es dafür dunkel genug ist laufe ich nach nebenan, zu einem Schrottplatz mit alten Locks, Zügen und Lastwagen. Ich zeichne einen rostigen Kipplaster (mutmaßlich ein Tatra 148) durch Zaun und Büsche:
With various tram rides (and a ferry ride across the Vltava) we reach the 'Meet Factory' – there are several art exhibitions, concerts and this evening open air cinema in old industrial architecture between the railway tracks and the motorway. Until it is dark enough I walk next door to a scrap yard with old locks, trains and trucks. I draw a rusty dump truck (presumably a Tatra 148) through fences and bushes: