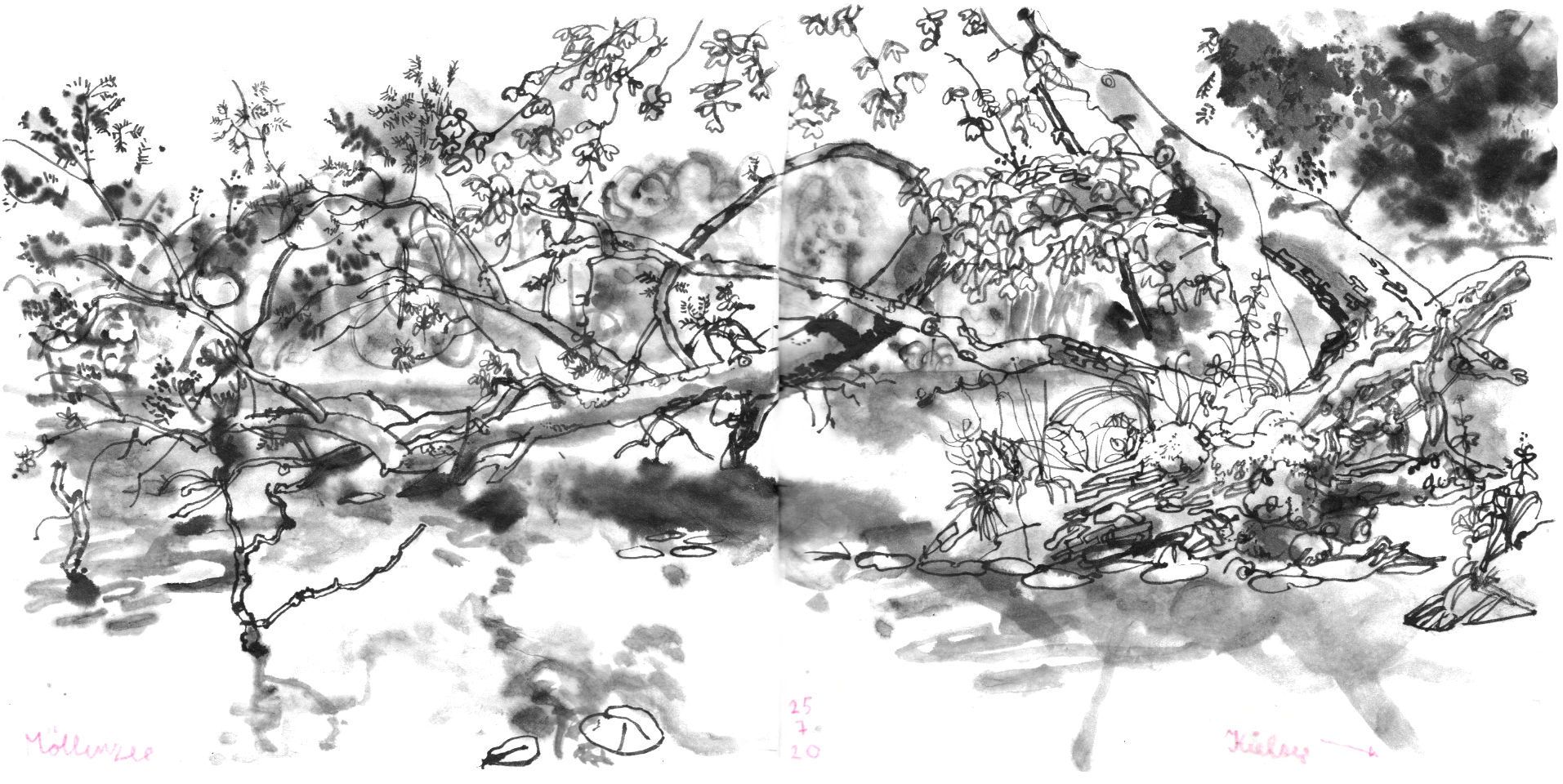 See
Der Möllensee liegt östlich von Berlin bei Grünheide (Mark).
Am südlichen Ufer zweigt ein Stichkanal zum kleinen Kielsee ab. An der Einmündung ragen Bäume in den See. Ich klemme mich mit meinem Faltkajak zwischen knapp unter dem Wasser liegenden Bumstämmen und schaue auf den See. Kajaks und SUBs kommen vorbei, einige erkunden den Kanal. Auch Motorboote fahren hinein – deren Kielwellen versetzen mein Boot.
The Möllensee is located east of Berlin near Grünheide (Mark).
On the southern shore a canal branches off to the small Kiel Lake. At the confluence, trees jut into the lake. I clamp myself with my folding kayak between tree trunks lying just below the water and look out over the lake. Kayaks and SUBs pass by, some explore the channel. Also motorboats enter – their keel waves move my boat.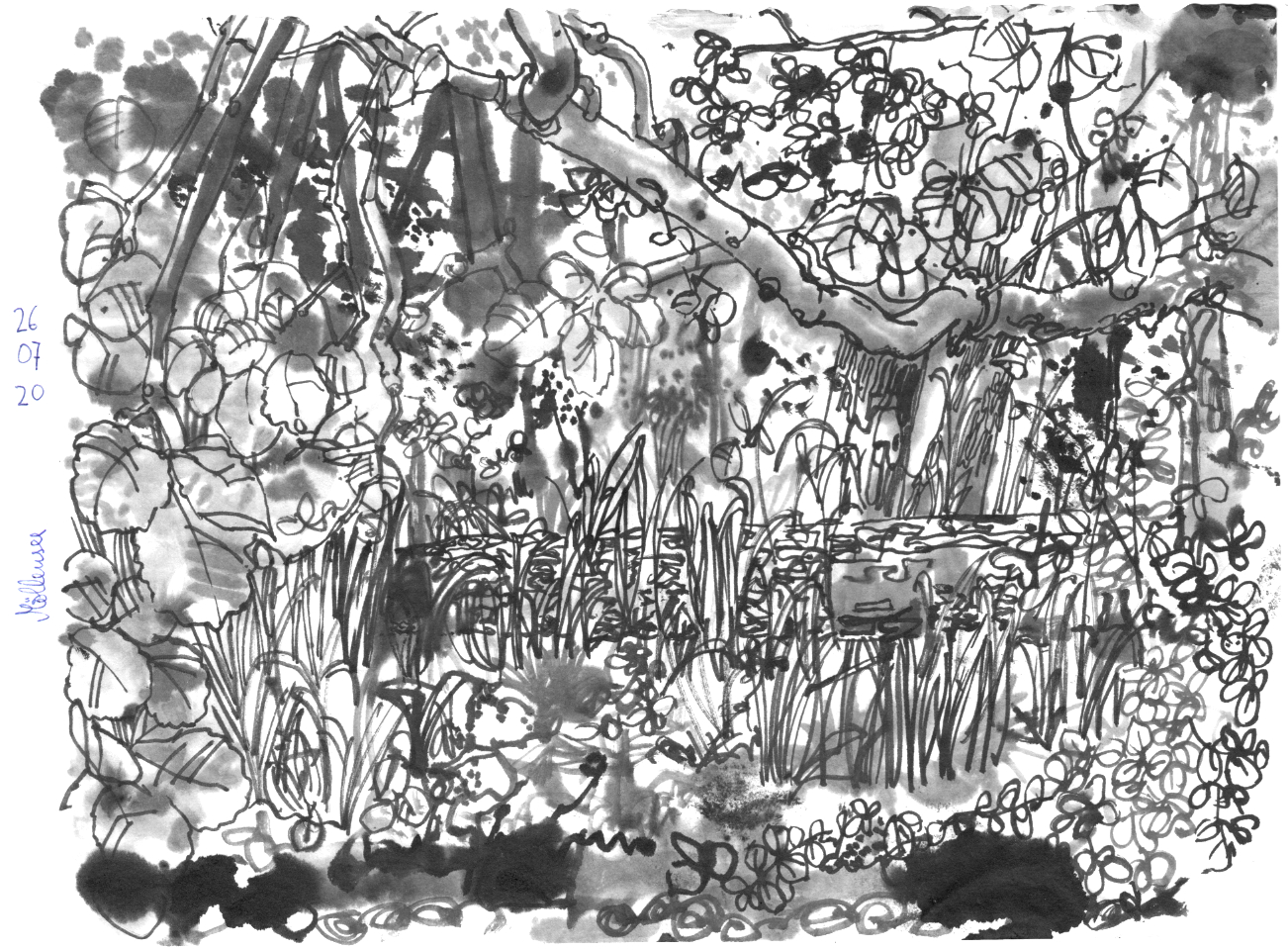 Der See ist von Wald umgeben. Ich stelle mich mit Boot unter einer am Nordufer über den See ragenden Erle vor dem Regen unter und schaue in den Uferwald, der fast überall hauptsächlich aus zum Teil sehr großen Schwarz-Erlen besteht.
The lake is surrounded by forest. I stand with boat under an alder tree that towers over the lake on the northern shore and look into the forest along the shore, which consists almost everywhere of mainly black alders, some of them very large.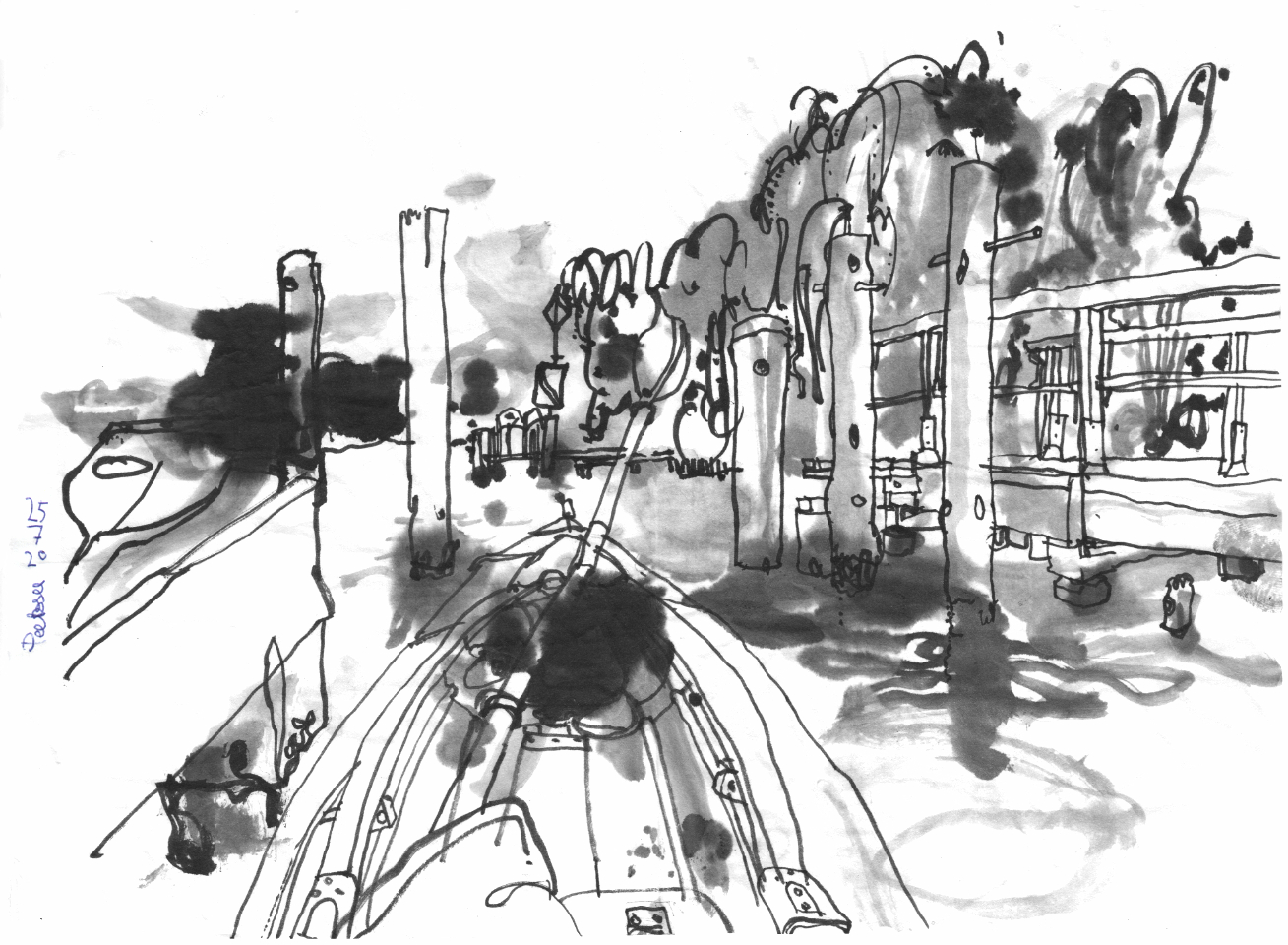 Richtung Westen ist der Möllensee über eine Kette miteinander verbundenen Seen an die  Berliner Spree angeschlossen. Wir paddeln zum benachtbarten Peetzsee, an dessen West-Ende der Ort Grünheide mit Supermärkten ist. An der Einfahrt des Kanales zum nächsten See ist ein Biergarten mit Anlegestegen davor, dort warte ich.
To the west, the Möllensee is connected to the Berlin Spree by a chain of interconnected lakes. We paddle to the neighbouring Peetzsee, at the western end of which is Grünheide with supermarkets. At the entrance of the canal to the next lake is a beer garden with jetties in front of it, there I wait.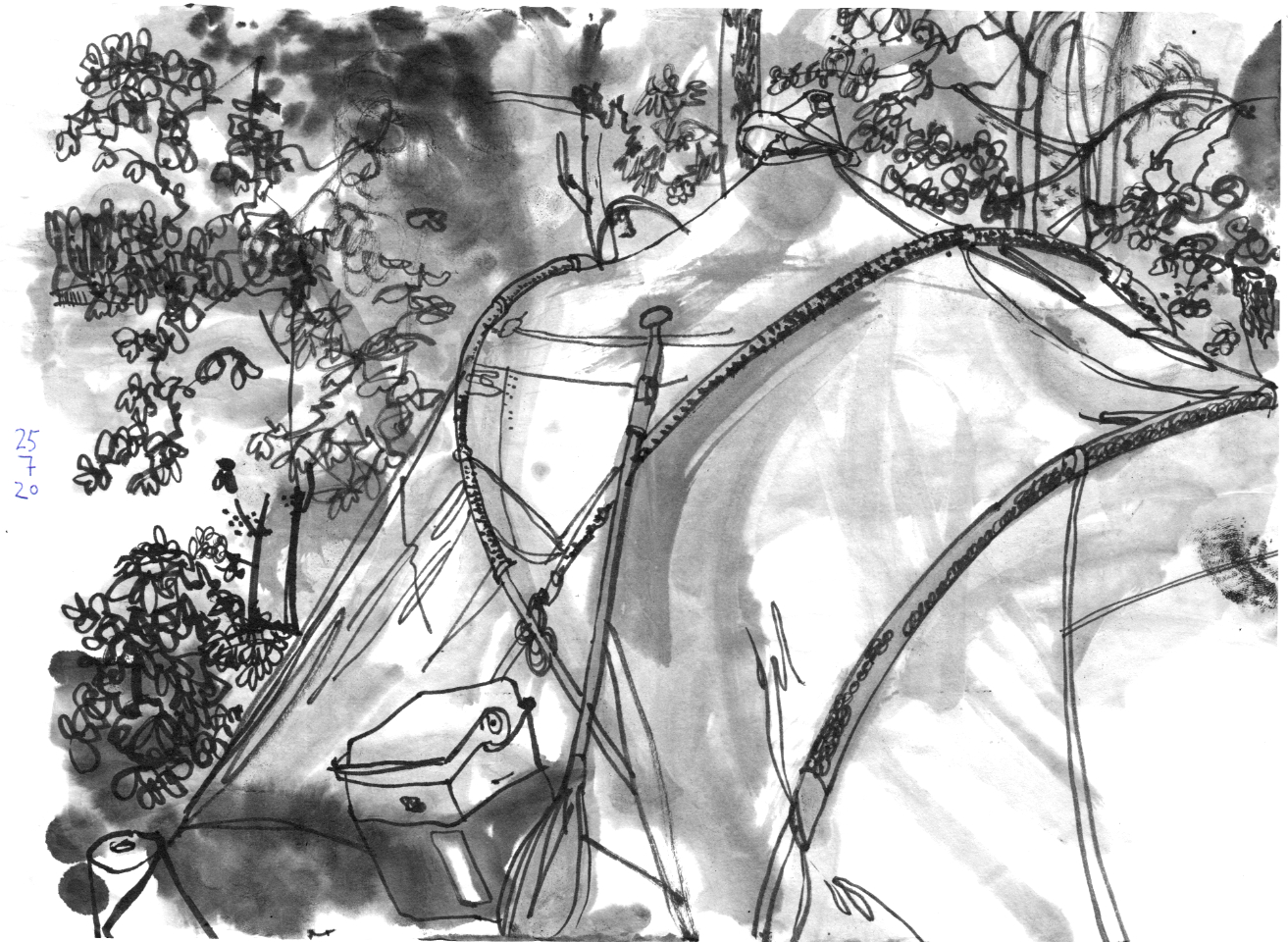 Zeltplatz
Wir verbringen zwei Nächte auf dem 'Mölle-Süd-Camp'. Auf der Anhöhe am Ufer wohnen viele Dauercamper in teils mit Holzstrukturen überdachten Wohnwagen. Der Platzwart ist scheinbar überall gleichzeitig, immer freundlich und zeigt uns die Zeltplätze. Die sind alle auf terrassierten Flächen am Uferhang. Wir schauen nachts auf den See in Richtung Sonnenuntergang und haben es nur ein paar Schritte zur Badestelle oder den Bootsständen, an denen ich kurz vor der Abreise (erfolglos) versuche, die Haut meines Faltbootes vor dem drohenden Regen zu trocknen.
We spend two nights at the 'Mölle-Süd-Camp'. On the hill at the shore many permanent campers live in caravans, some of them covered with wooden structures. The groundsman seems to be everywhere at once, always friendly and shows us the sites for tents. They are all on terraced areas on the slope at the shore. We look at the lake at night in the direction of sunset and have only a few steps to the bathing area or the boat stands where I (unsuccessfully) try to dry the skin of my folding boat before the threatening rain shortly before departure.